The Descendants of Sir John FORBES 1st Laird of Tolquhon,
born about 1390, probably in Aberdeen, Scotland.
Original Forbes Family Information came from Anthony Bishop; but additional Information was provided by several others, including Alison [Jordan] Elkin, David Hope, Judy Wright, Nick Wiseman, Paul Marfell and Tim Wallace.
---

Table of Contents

Descendants of Sir John FORBES, 1st Laird Of Tolquhon
Surname List
Index of Names

To see a Map of the Birth, Marriage and Death Places for the Forbes Family, click here.


---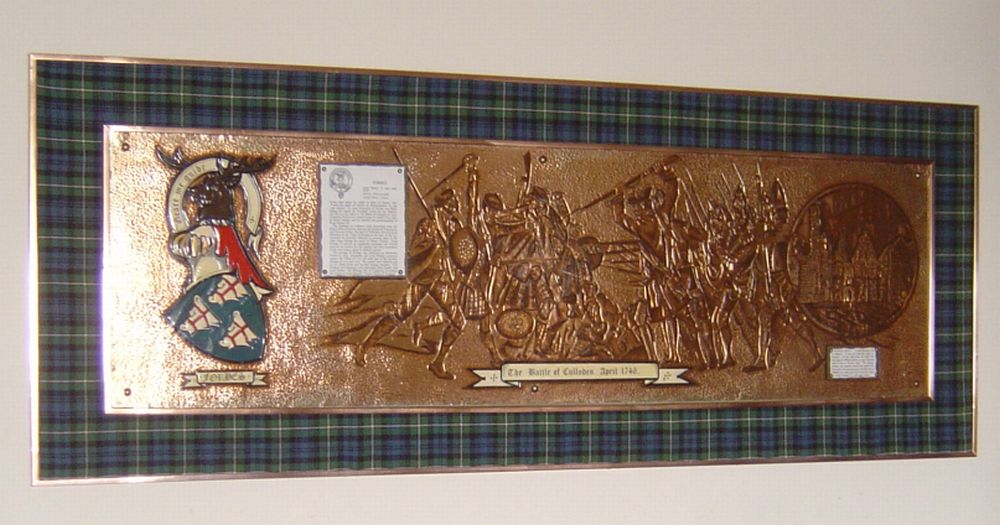 Anthony Bishop in an eMail in June 2007 said:
This is a picture of the Forbes plaque of the battle of Culloden which I had made in 1981, to be the centre piece for our ballroom in our hotel. Overall it is 8ft 1 inch long by 3ft 1 inch high. This means that it needs a large wall.
If any one who sees it here, on the WebSite, would like to have it, say a member of the Forbes clan with a hotel or similar building, they could contact me.
I am happy to have it here [in my Home] while I am alive, but I don't think either of my sons or their children would want it in their home. I am a sentimental old fool. I don't want it to be destroyed when I die. If the overall size is too big for anyone, the actual copper plaque (without the tartan) is 7ft and half an inch by 2ft and three quarters of an inch.
---
Contact Information
Send E-mail to howdee at netspace.net.au Return to Home Page