Ancestors of Michael Howard Ulph SMITH, born 1954.

First Generation
---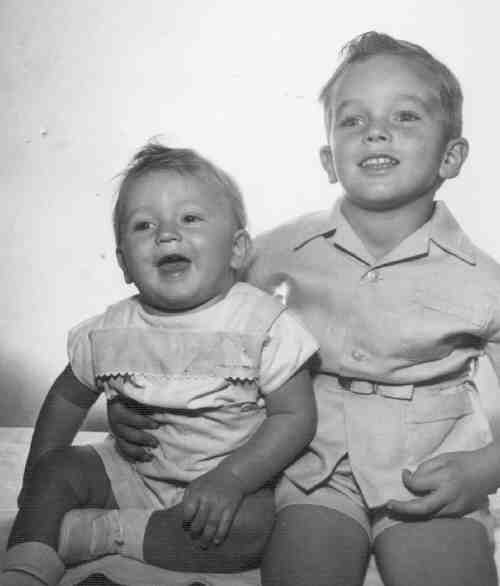 1. Michael Howard Ulph SMITH [3517], son of Howard Ulph SMITH [3514] and Margaret Mary Theresa Eileen GREER [3513], was born on 20 Sep 1954 in Nambour General Hospital Nambour QLD Australia. Another name for Michael is Mickle.

General Notes: Michael was born at Nambour in Queensland following his conception in Tenant Creek. He had a wandering childhood and education from Nambour through Brisbane to Sydney, N.S.W. and finally at age 15 years to England. Amongst the many Schools he attended were Our Lady of the Sacred Heart College at Bowral in N.S.W., Kedron High School in Brisbane and Imberhorne Comprehensive School in East Grinstead, Sussex, England. On leaving School he enlisted in the British Army as a Sapper and served in England, Germany, Cyprus and Northern Ireland, between the years 1971 to 1977. Following his discharge he returned to Australia with his Wife, where he was employed in various capacities including Security Guard and Property Maintenance. He returned to England in late 1978 and worked for I.C.L. Computers until his second return to Aust. in 1984. He was employed as Property Manager for a time until he commenced operating his own Property Maintenance Business in 1987. He and his Wife
seperated in 1985, and were divorced in 1987. H.U.Smith. February 1988.
In 2016 Michael and his current Partner, Olivera [Nikolic] Fitzgerald moved to Belgrade to spend Time in Europe.
In an e-Mail received from Michael in August 2018, he reminisces on his Time in the British Army in Northern Ireland as follows:
it was the '70's and I don't remember much... 1974 to be precise, probably spring/summer as I had not long turned 19 I think. Don't remember much but I was based in Ballymacarrett, possibly in an old (fortified) church, off the Newtownards Rd, I think we were reasonably close to the Working Mens Club (I clearly remember a building, across a demolished area, with one end painted with a Red Hand and the UFF (or maybe UVF) symbol. We used to do foot patrols around Ballymacarrett and the Harlan & Woolf dockyards, I remember the big crane "Goliath" very clearly, (4 hours on and 4 hours off) and vehicle patrols which took us further afield including the Crumlin, Shankill and Falls Rd's also we would man vehicle stops for ID checking on the Newtownards Rd and every 28 days we would get 3 days R&R and while some would fly back to Germany (where my Regiment was based) or England/Scotland/Wales most of us would head off to Bangor, a little fishing village with plenty of pubs and little threat from the IRA and such. But my most abiding memory was getting into all kinds of strife because of... that's right, a woman! I was in love with a local girl from the Falls Rd... Cathy Bell. The Army used to organise dances on board the HMS "something" (might have been Belfast) where I met said Cathy Bell, anyway I arranged (in my hormone fuelled, 19 year old headspace, minus a brain) to meet her one night at the gates to the wharfs... fortunately for me I was picked up by a patrol before I managed to get to the gates and taken back and charged with being an idiot! Very shortly after that they showed us a video of young squaddies being lured by pretty girls and ending up shot in the back of the head - don't how true it was (may have been a propaganda scare tactic to keep us in line) but probably should have showed it before I went walkabout. Mostly, my time in Belfast was about trying to get as much sleep as possible... most of the time we all just slept in our uniforms because we come back from patrol and just flop on the bed knowing we would be up again in 3 hours or so. Only 1 more thing to add, during our foot patrols we had a regular stop for a cup of tea, a lady, with 2 young daughters (13 &15) would always invite us in (daily) and serve us tea and cakes - extraordinarily kind! That's my memories of Northern Ireland.
And, subsequently, on his Time in Germany:
Can't remember exactly but we used to practice on the Weser at Hamelin and often went out for night exercises to Rinteln, Emmertal and other places I can't remember along the Weser, as well as doing joint exercises at Osnabruch and Bielefeld. On a bridge, at night, everybody got to sleep in shifts except the pilots (there are no spare pilots); the rig commander, driver and crewman slept on the engine covers (the rigs had two big Deutz diesel engines, one for the road wheels, main propeller and hydraulics and the second drove the side props and related hydraulics) which were always very warm. The squadron was made up of 4 Troops. The safety boat crew were relieved every 4 hours as were the watch, these guys all came from Admin Troop along with support vehicle drivers, cooks etc; REME provided mechanics and recovery vehicles (wreckers) and the rig crews came from Troops 1, 2 and 3 . There were 4 Squadrons in the Regiment (28 Amphibious Regiment) and Admin squadron and 3 Squadrons who's primary function was to build bridges and then get killed by enemy (Russia) air strikes. There was only ever one Amphibious Regiment in the British Army, based in Hamelin in Germany, as well as Troop 3 of 24 Independent Squadron, primarily for UK based training of crews and as a show troop for demonstration purposes for big wigs, but with only 2 rigs the best we could do was show how to join one to another, based at Kitchener Barracks in Chatham - I served in both 28 Regiment and 24 Squadron (training other pilots).
Michael married Lesley Margaret BEARD [3519], daughter of Geroge BEARD [3984] and Shiela Ann CULLEN [3968], in Walderslade C of E Kent England. The marriage ended in divorce. Lesley was born on 30 Dec 1957 in Chatham Kent England.
Children from this marriage were:
i. Jaclyn Anne Marie Lucy SMITH [3520] was born on 23 Aug 1978 in Balmain Hospital Balmain Sydney NSW Australia. Another name for Jaclyn is Jaclyn Anne Marie Lucy BETTS.

ii. Private

Michael next married Olivera NIKOLIC [43479]. Another name for Olivera is Olja.